I came across Tazaldoo some days ago. In April, the had raised €250k in equity crowdfunding via Companisto (read here) to develop Tame, a personalized context search engine for the microblogging service Twitter. Being always curious about tools for journalists and bloggers, I contacted Torsten Müller, Co-founder & CCO, of the Berlin-based startup. He accepted to answer my questions.
FinSMEs: Hello Torsten, Can you tell me a little bit more about you?
Torsten: Buongiorno Ermanno! In the last five years I studied and lived in four different countries, went from being a PR to working as a journalist for the German news agency dpa and other outlets. During my postgraduate studies in media & globalisation met my co-founder Frederik, with whom I launched a global freelance journalism network before creating Tame.
FinSMEs: Let's speak about Tame. What is it?
Torsten: Tame is our solution to fight the information overload on the real-time web. In this case, we started out with Twitter, as it's the most relevant platform for news. We call Tame a "context search engine", as it delivers the most relevant topics, people and links for your search at a glance. Tame is a web-based application that works in your browser and on mobile devices, too.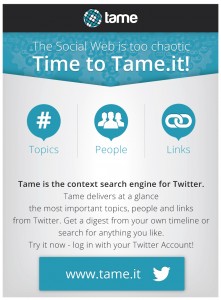 FinSMEs: How does it work?
Torsten: Tame delivers at a glance the most relevant topics, people and links from Twitter. By breaking down the chronological streams into relevance rankings, we help people discover relevant information more quickly. You can get a digest from your own timeline or search the whole of Twitter for anything you like. One example: I follow about 800 people on Twitter, which results in more than 3000 tweets in my timeline per day. Tame tells me what the people I follow are talking about, who they are talking about and what articles, videos or images are interesting for them. The individual timeline is however only one dimension we cover with Tame. The other is global Twitter search: There can be easily a hundreds of thousands of tweets for one hashtag, for example #boston a few ago. Tame crunches this big data down into the three top ten rankings of most relevant people, topics and links.
FinSMEs: What's your business model?
Torsten: Tame is currently in open beta and free to use. Soon we are going to make revenue based on subscriptions with a freemium model: the timeline analysis remains free, while global search and additional features start at 5 Euros per month. We also offer customized data analysis based on Tame for B2B clients on individual rates.
FinSMEs: The company: Tazaldoo. Who are your team members?
Torsten: We are a mixed team of journalists and developers. I want to highlight our CTO Arno, who converts our concepts into code. He's an experienced Ruby developer who already has an entrepreneurial background. Frederik is a journalist with lots of experience and a bigger vision, who decided that the trade needs innovation coming from inside. There is Matthias, who has a PhD in computer science and manages our frontend development, while Tobias is now in charge of Social Media Marketing and SEO. And not to forget Sarah, our new assistant, who keeps the organisational chaos that 5 men produce in check.
FinSMEs: You raised €250k via companisto.de. What a win. What can you tell me about that experience?
Torsten: Our campaign with Companisto went outstandingly well: 808 micro investors invested in us. We were overwhelmed by the positive feedback and the fact that we raised the maximum amount in such a short period of time (less than four weeks). It is good to see that the people realize the problem and have confidence in the solution we are building. A lot of credit goes to the guys from Companisto: apart from running the platform, they consulted us how to prepare and run the campaign and have managed to gather an exceptional investor crowd.
FinSMEs: Are you still seeking funds?
Torsten: In order to grow and scale our business further, we are looking for growth investments early next year.
FinSMEs: How are you using the funds?
Torsten: We use a major part for development and staff. We have extended the team to take some bureaucratic and administrative weight off the founders' shoulders, so that we are able to concentrate on our core objectives in sales, marketing, product design and development.
FinSMEs:…future plans?
Torsten: We're working very hard these days on a redesign of Tame, with a more beautiful and intuitive user interface plus the introduction of the subscription model. In October, the founders will stay for three months or longer in the Silicon Valley as part of the German Silicon Valley Accelerator, which selected us for their program. We're looking very much looking forward to presenting Tame to the US market, the homeland of Twitter.
FinSMEs
30/05/2013