Last week, Pubster released its app "that gives you free drinks". I met Gabriele Fronza, the co-founder of the startup incubated by EnLabs, the Rome, Italy-based world-class accelerator.  He introduced the product, the team and told me something about their funding search activities and future plans.
FinSMEs: Hello Gabriele, thank you for joining us. First, tell us a little bit more about you?
Gabriele: Hi Ermanno, I'm a 25 years old startupper from Rome (Italy), I studied Management Engineering at the University of Rome Tor Vergata and I am one of the four founders of Pubster.
FinSMEs: Let's speak about Pubster. What is it?
Gabriele: Pubster is the first app that gives free drinks to its users! You can spot pubs in your city and track down the events around you. Collect the pubster coins and take your free drink.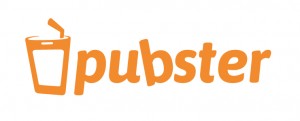 FinSMEs: Tell me something more. How does it work?
Gabriele: It's very easy, just follow our 5 simple steps to get a free drink:
1) Download our App for free, it is available both for iPhone and Android devices.
2) Go to the pubs of the Pubster's network, with the App you can spot the events in your city and then decide how to spend your night.
3) Look for our QRcode adhesive in the pub, scan it with your own device using our App and collect the coins you deserve.
4) Collect the Pubster coins, every time you go to the pub, once a day and for every event which is happening.
5) Enjoy your free drink! buy it with your Pubster credit, previously collected in the pub, and go to the bar ready for your order.
FinSMEs: What's your business model?
Gabriele: Pubster is designed to solve a problem that is really painful for a Pub: get their customer to come back!
Pubster is based on a simple assumption: give free drinks to customers is more profitable than sales promotion or discounts, which usually only reduce the margin of profit and devalue their own pub. And most important for the customers, a free drink is always so mouth watering. When a free drink is at stake, the storekeeper makes an acquaintance with the customer, who will come back to his pub at least for the number of times needed to collect the prize. Beer, Shot, Cocktail, Sandwiches and Snacks: on the page of the pub it will be always be clear what is offered.
Our Researches demonstrated that offering a drink which for a storekeeper is cheap, makes the business profit four times more than a usual consumption.
A pub that decides to be part of Pubster, with just the amount of 20 €/month, is able to:
– make its own customers happy, inducing them to come back
– see its own sales increase
– increase the business value.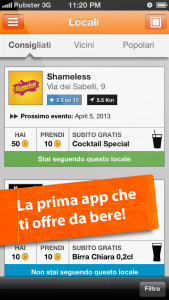 FinSMEs: Why do you think Pubster is worthy for a venue?Gabriele: It's all based on two important studies, the first has measured that one out of three italians has been in one of our target places at least two times at week. The second and more important one is that the avarage expense for every night out is 14 €. This means that even if the small number of 2 persons a month comes back at the venue with pubster, theshopkeeper has already covered is investment. In conclusion, if two persons comes back thanks to Pubster the venues has already gaining more.
FinSMEs: Who are the other team members?
Gabriele: Pubster, other then myself, has three more founders:
The CEO is Andrea Pastina, age 32, who focus on Business Development and Sales. Davide Caroselli, age 25, our CTO, and Silvia Salvadori, age 34, who is in charge of the relationship with the venues.
FinSMEs: Can you tell me something about Enlabs? What about your life there?
Gabriele: We were one of the startups selected in the second Enlabs acceleration program, and at the same time we raised a microseed from their fund LVenture. Working in this environment is amazing, working side to side with the best Italian startups and interact with the Enlabs high level mentors is inspiring, not to mention all the events and meetings they set up for us.
FinSMEs: Are you further seeking capital?
Gabriele: With the launch of the new version of the app we are now seeking capital to take our business to the next level.
The seed investment we are seeking will be used:
– to improve our business offer towards venues, creating a range of premium services to cover the problems of the targeted shopkeepers.
– to grow our business in the Rome and Italian market.
– to expand our territory coverage opening new markets in European and American cities.
FinSMEs:…future plans?
Gabriele: We plan, in the next months, to expand our business to all the Italian territory thanks to our tested sales process that will make our business grow fast. Our goal is to offer free drinks to all Italy in 6 months and to all the World in two years.
FinSMEs
20/05/2013