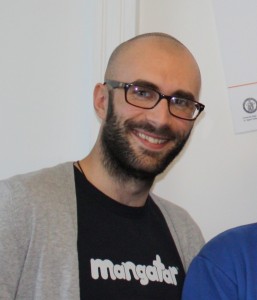 At the end of 2012, I had the opportunity to speak with Raffaele Gaito as a co-founder of Mangatar.
In December 2012, I had a q&a with him (read here), to know a bit more about what happened behind the scenes of the Salerno, Italy-based, venture backed startup that develops social games in the world of Manga.
Gaito is meticulous and committed 100% to what is doing. He personally manages the relationships with journalists and bloggers (blogging himself at raffaelegaito.com) and once he (gently) invited me to remove a pitch I had embedded in a piece about Mangatar. In his opinion, the video was too old.
He is also an active member of the Italian and local startup scene and the opportunity to speak with peers, investors, and journalists during events, as well as to listen to founders during pitch sessions, triggered him to do something hilarious.
So, in December 2012, he did come up with the idea of creating "Frasi da Startup" – that in English sounds like "startup quotes" but with a strong ironic accent – a Facebook page that collects obsessively (ab)used sentences across  the startup world.
Exaggerations, overestimates, simple hopes from founders but also repeated excuses and pretests from investors. Quotes in which lots of people can find themselves either said or heard in conversations or public events.
Some examples?
Something banal like "Our business model is advertising" or "We are disruptive".
Improbable hopes related to a still-to-be raised investment like: "Some investors are ready to invest in our project when it will start" and "A group of key employees are ready to join us as soon as we receive the investment".
Exaggerated comparisons such as the one with Facebook: "We have reinvented the concept of social network" or "We are like Facebook but with more features".
Open new markets is always hard and some repeated phrases like "Nobody is doing what what we are doing", "We are the first to enter this market", "We will create new markets", "Our idea will revolutionize the market" and "We have no competitors" demonstrate it.
Fortunaltely, some of them have found the promise land and said: "(We) are already working on the launch in the USA".
Repeated excuses from investors such as "You are not capitalized enough for us to invest in your company" or "Come back when you have some traction".
Protect IP is a pain, as well: "If you want to know something more you have to sign an NDA".
But most of them are involved in their ecosystem and discover that "There aren't the funds needed to invest in any startup".
But journalists also do their best to predict that: "Here we will build the next Silicon Valley".
The page (available in Italian) has about 600 fans, the major part coming from the Italian startup ecosystem and continues to grow relentlessly.
FinSMEs
23/05/2013