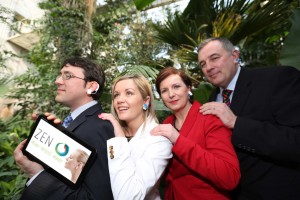 Zinc Software, a Dublin, Ireland-based company developing a biofeedback gaming platform for iOS and Android, raised €650k in funding.
The investment includes:
– €150k investment by Kernel Capital through the Bank of Ireland MedTech Accelerator Fund,
– €150k by the AIB Seed Capital Fund, co-managed by Dublin BIC,
– the remainder provided by Enterprise Ireland and PCH International.
The company intends to use the capital to commercialize the Zen product in the US and to develop its SDK program, which allows licensing partners to integrate Zinc's heart sensor with their own smart health apps.
Led by Darran Hughes, CEO, Zinc develops next generation heart sensors aimed at the health and wellness market. Zen Sensor is a wireless biosensor that clips onto an ear lobe and once powered on, immediately starts transmitting high resolution heart waveform data to an iPhone, iPad or Android device.
The sensor system relies on heart rate variability (HRV) biofeedback, a clinically proven method to reduce both blood pressure and the levels of stress hormones such as cortisol in the blood.
Zinc is the first European company to partner with PCH International, as part of its Accelerator program.
FinSMEs
04/04/2013