Yourp is a mobile app designed to let us live our city in a new "augmented" way, personalizing our world while we are on the go. Stefano Covolan, the young founder, talk to us to introduce his project and team.
FinSMEs: Hello Stefano, thank you for joining us. First, can you tell us a little bit more about you?
Stefano: Hi. Thank you very much for this great opportunity. I'm Stefano Covolan, I'm 22 and I just came back from China where I studied Finance at the Jiangxi University of Finance and Economics. I'm now going to finish my bachelor in Finance at Università Cattolica del Sacro Cuore.
I'm founder and CEO of Yourp and I've been working on it for one year and half along with my team.
I'm a tech lover, Android fan boy and 100% Twitter addict, 5 months in China without Twitter? Something really hard. I love videogames but unfortunately I don't have time to play anymore. By the way, I'm always ready to play Angry birds for five minutes .
FinSMEs: Let's speak about Yourp…What is it?
Stefano: Yourp is a mobile app, now avalaible for Android. With yourp you can leave a print in the real world in 2 way. Geolocalization message: you can leave a message in one place and users will receive it when they will pass in that place; Augmented reality message: you can leave a virtual message in a place and people can see it with the camera of their smartphone.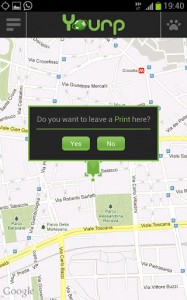 FinSMEs: Tell me something more. How does it work?
Stefano: the app uses GMS cells and WiFi triangulation to check your position, if you go to a zone in which a message was left, the app asks for the GPS signal and reduces the zone till 2-3 metres and enable the reception of  it.
Yourp works in a way that allows you to save a lot of power, something that's totally new for a geolocalization app.
Just to give an example: you are clubbing with some friends and when you are going home you decide to take a picture and leave a message outside of the club. The next day someone checks the club and sees your picture so he decides to join the club.
There are a lot of real life examples. Yourp allows you – for the first time – to give a real value to the places where you live and spend your time, including resturants, parks, clubs, shops and everything give you a special feeling.
FinSMEs: What's your business model?
Stefano:  In the first year, we aim to improve the community. Yourp is currently available in Italian and English and we are now focused to grow our community. After creating the first community we will start our business model that's divided in 2 different ways.
Old Economy: interested users can receive targeted advertising messages and offers based on their personal tastes from companies while on the go.
New Economy: we want to offer special posters for stores, which can be customized for all different users. For example Samsung decides to set a poster out of its store, I'm a Samsung user and I will see something like "If you buy a new smartphone, you will have 20% discount", another guy, maybe an Apple user will see "If you change your smartphone today you will get a MP3 Player for free". We will set up a monthly subscribtion model for stores.
Our Business model is really strong, we check revenue with one milion users and we are going to get money and improve the app without problem, or we hope so.
FinSMEs: Could you introduce us to the other team members?
Stefano: Sure, our team now includes 4 people. Beyond me, the CTO, Lead developer and an art director.
CTO Francesco Pongetti he is studying to get an MBA, he is 26 and he is always ready to introduce new good things inside the app. He is teaching us how to work in team and to grow as a startup. He is working to improve the server and the database.
Salvatore Cino is the Lead Dev, he is 22 and he is studying in Palermo, he is one of the best developer I've ever met, he is young but he has already built a lot of apps like QR Barcode Scanner that has 18 millions downloads. He is always working hard and has never said "We can't do it".
Dario Berardi recently joined us as Art Director.

FinSMEs: Have you ever raised funds? Are you seeking funds? What can you tell us?
Stefano: No, we never got funds from VCs, there were some incubators but we always refused the idea because we were not looking for something like that. After our second beta some VCs contacted us and now they want to see our results after 2 months live. If everything is gonna be fine we will take the money and after that will go to another country, maybe to the USA. When a VC gave you the money you have to move where they say, you can't decide.
FinSMEs:…future plans?
Stefano: I'm going to take my bachelor this summer. For Yourp, we are working to improve the app and the community. We want to increase the number of users as much as possible, that's our goal. We are startuppers. Our plan is to work all together in our office and try to make our dream real.
FinSMEs
08/04/2013