Swifto, a NYC-based marketplace for dog walking, said it raised $2.5m in funding from Benchmark Capital.
The company is using the funds to grow operations. It plans to expand to Boston by the end of 2013, and both Chicago and San Francisco in 2014.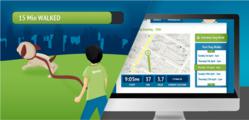 Founded by Penina First and led by Mohammed Ullah, CEO, Swifto connects dog owners with vetted and screened walkers.
The service provides clients with tools to view the route of their walker on a live map through an internal GPS tracking mobile app, which sends clients a text at the beginning and at the end of a walk, a photo along the way.
A 30-minute dog walk costs $20.
Potential candidates must have professional experience walking or caring for dogs, display knowledge of dogs, be college educated, and pass a background check. After meeting the requisites, they go through 3 interviews, a training session, and must pass an exam.
FinSMEs
28/04/2013