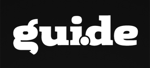 Guide, a Miami, Florida-based startup focused on turning online news, social streams and blogs into video, raised $1m in seed funding.
Backers included Sapient, The Knight Foundation and actor Omar Epps.
Founded in August 2012 by CEO and founder Freddie Laker, Guide is an app that turns online news, blogs and social streams into curated and personalized video news using advanced avatar technology and text-to-speech technologies. Guide reads and displays content so allowing users to consume it while doing other activities.
Leslie Bradshaw is the Chief Operating Officer of the company.
http://youtu.be/E-7BvZnLtfM
FinSMEs
07/02/2013