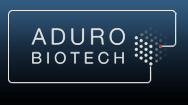 Aduro BioTech Inc., a Berkeley, CA-based developer of therapeutic and prophylactic vaccines based on proprietary recombinant strains of the bacterium Listeria monocytogenes, closed a $6.5m equity financing.
According to a written statement, backers included primarily current investors. Nothing more was disclosed.
The company intends to use the capital to expand its targeted immunotherapy development efforts.
Led by Stephen Isaacs, chairman and chief executive officer, Aduro develops a vaccine platforms for the development of vaccines for cancer, infectious diseases and biodefense.
In 2012, the company completed the enrollment of a randomized, controlled Phase 2 trial of the sequential administration of two cancer vaccines, the CRS-207 and GVAX Pancreas Cancer Vaccine, in patients with metastatic pancreatic cancer, initiated a Phase 1B trial of CRS-207 in patients with malignant pleural mesothelioma, as well as a new preclinical program based on cyclic dinucleotides (CDNs), which are immune modulators with broad application in both therapeutic and prophylactic vaccines.
FinSMEs
31/01/2013