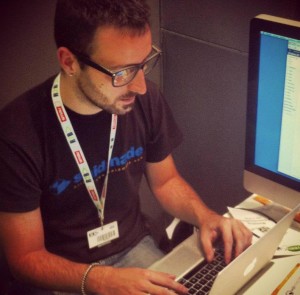 How to bring WordPress to the next level? We met Nicola Ballotta, CEO of wpXtreme, the Italian startup that recently won the StartuParty! in Milan (read here).
Nicola explained us the features of the tools his team is developing for ecommerce sites, portals and blogs to "dope" their WordPress experience and revealed some secrets about the future of the company.
FinSMEs: Hi Nicola, thank you for joining us. First, can you tell us a little bit more about you?
Nicola: "I'm 31, Italian, but cosmopolitan inside. I've followed the Italian hacker scene since I was 12. Security has always been one of my biggest passions. I've worked for large Italian companies including ePlanet, HP, Mondadori. I've been an entrepreneur since 2008. I founded Saidmade, a well-known software house and Knowcamp, a no-profit event which aims to spread the web culture in Italy, with over 400 participants in the last edition. In the last years I've approached the startup scene and recently founded wpXtreme, my WordPress-based startup".
FinSMEs: Why did you decide to launch wpxtreme? What's your vision?
Nicola: "Since I was a freelance I've always loved WordPress, the most popular CMS (content management system); with Saidmade we acquired a lot of experience and it quickly became our CMS credo. wpXtreme is the first attempt to bring WordPress to a next level, especially in the enterprise, where is often underestimated. We aim to completely revolutionize the WordPress experience, for both developers and end users".
FinSMEs: Tell me something more…What is it? How does it work?
Nicola: "wpXtreme was born one year ago as an ecommerce plugin. Doing ecommerce with WordPress is not an easy task; there are plenty of ecommerce plugins, but none is capable of providing an enterprise solution. Over the time, as it happens in many startups, the concept has evolved and today wpXtreme is a true ecosystem: the wpXtreme plugin is both a plugin for enhancing WordPress and a framework for developing plugins.
"It add to your WordPress core, directly on your dashboard, a real app store for buying plugins with themes following in the near future. We call it WPX Store. This is our first revolution dedicated to WordPress end users but we're developers, you know! The true innovation in our ecosystem is represented by the WPX Developer Center. With our previous company, we developed iOS apps and got in touch with the Apple Developer Center. Given that, we asked ourselves: "Why don't get inspiration from it for WordPress development?"
"The WPX Developer Center was born in that way. It provides a set of tools to develop high performance stuff for WordPress and sell it through the WPX Store. Where we will make the real difference from the other competitors? We're developing the first testing system for WordPress, one of the most missing tools at the moment".
FinSMEs: What's your business model?
Nicola: "Our business model is mainly based on the WPX Developer Center; every developer will pay an annual fee (we've different plans) for being part of the center and we take a revenue share on plugins and themes. We will also monetize by selling our pro plugins on the WPX Store and we're planning to create some services for the end users such as cloud and mobile.
"I really can't say anymore than that right now!"
FinSMEs: Could you introduce us to the other team members?
Nicola: "I'm lucky, they are all awesome people, very skilled and mad enough to follow me. They are: Giovambattista Fazioli, CTO, who has more then 20 years of experience in coding web and mobile solutions; Stefano Furiosi, COO, who is the man behind the WPX Developer Center. He has more then 20 years of experience in problem solving and is the ex CTO of Current Tv Italia; Matteo Fantuzzi, who is our pitch and marketing man. He seems he was born on the stage; and, last but not least, Giulio Achilli, our senior ascetic developer who is developing the low level stuff on wpXtreme".
FinSMEs: I know you are in the final stage of a VC fundraising. Could you tell us a bit more?
Nicola: "Yes, we're seeking $400k in seed funding and I hope to close the round in December 2012. Sorry, but at the moment I can't say anything else :)".
FinSMEs: Why do you need funding? How do you plan to use the proceeds?
Nicola: "We need funds to hire a new developer who will focus on the testing environment of the WPX Developer Center, as well as to open an office in the US, which is our main market".
FinSMEs: What's your future plans?
Nicola: "We have some surprises I can't reveal at the moment. We aim to become market leaders in the field of WordPress plugins and themes development, I think we've all the right elements to do it. Future plans include a cloud environment, which will be used in conjunction with our system, a mobile app to manage wpXtreme plugins and an advanced visual testing platform for enterprise use".

FinSMEs
21/11/2012