Pick1, a startup that provides brands with tools to create and manage insightful questions and actionable answers both for social individuals and businesses, is now officially part of Mountain View, CA-based 500 Startups.
The Italian company will receive up to $250K in funding and access to world-class mentors and designers in residence in a creative workspace. They will be in the accelerator for 4 months.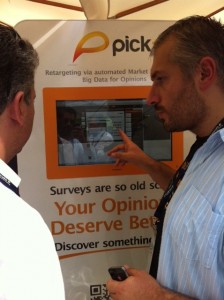 Led by Paolo Privitera and Armando Biondi, Pick1 provides brands with an end-to-end Real-Time Marketing solution based on Market Research automated to personalize the World Wide Web users' experience. Customers include Ikea, Toyota, American Express, Pirelli as well as several small and medium sized businesses, which use the product in the automated self-install version.
To date, the company has raised $1m from private investors including Oliver Flogel, Jordi Ferrer, Wilson Pais, and Gonzalo Begazo (read here).
Last year they participated in Start-up Chile.
FinSMEs
01/11/2012