Rawporter is a Charlotte-based startup created to help media outlets – from local blogger to national news network – source raw video and photos from everyday people, called "Rawporters", ready to use their smartphones to get them video and photos. They recently raised $300k in seed funding (read here).  My curiosity and professional bias brought me to know something more about the service and asked for an interview. Co-founder Rob Gaige accepted!  Read it below!
FinSMEs: Hello Rob, thank you for joining us. First, can you tell us a little bit more about you?
Rob: "We have three co-founders: Kevin Davis, Michael Robinson, and me, Rob Gaige.
"Kevin is in charge of sales and investor relations. He has a background in media, and started his career as an on-air radio reporter. Since then he moved into a variety of sales and product management roles before starting Rawporter.
"Michael is our chief technologist with an extensive background in data compression, intelligent indexing and database management. He's built a number of startup ventures ranging from technology consulting to kayak rentals.
"I'm in charge of marketing and operations. He began at AOL, then got his MBA and moved into marketing and product management roles at Nestle, Johnson & Johnson, and Bank of America".
FinSMEs: why did you decide to launch Rawporter?
Rob: "We think it's an idea who's time has come. Everyone has smartphones, and everyone is using the powerful cameras on those phones to capture and share their experiences. At the same time, media outlets need more content to fill the 24/7 news cycle–while being asked to cut their production costs.
"Rawporter protects the photo and video content that people are sharing and gives the media outlets an easy, affordable place to find that content".
FinSMEs: What is it? How does it work?
Rob: "Rawporter protects, promotes and sells the photos and videos you're already sharing online.
"When you capture a photo or video, you can upload it via our free iPhone or Android App, or, you can upload it to our website. You enter a few details to tell the community what you saw and how much it costs to license it. "Then it enters our stream, where our community can comment on it, like it, and share it. We watermark every item, so when it's shared on Facebook or Twitter, media outlets know exactly where to go to purchase it. We promote the best content through social media, increasing the chances for media outlets to find it".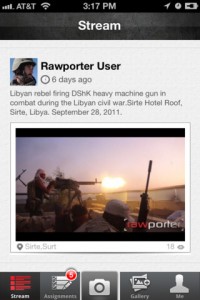 FinSMEs: What's the business model?
Rob: "Our Rawporters set the price for their photos and videos. We then charge a small fee on top of that price to the media outlets. Once a purchase is made, we transfer the funds to our Rawporters through PayPal".
FinSMEs: Could you introduce us to the other team members?
Rob: "Our small team is made up of six people. Our three founders plus:
– Our Marketing Assistant, Morgan Roberts
– Our lead App developer, Denis Smirnov
– Our Brand Advocate, Noni Cavaliere who helps us with Events, PR and Social Media".
FinSMEs: Today, many tech companies try to raise venture capital, I know that this is not easy. What did you do to reach the target? Was it easy to close the deal?
Rob: "We found success through a couple of different paths. Perhaps the biggest was using Social Media tools like Twitter to get the word out about Rawporter. That raised our profile and gave us a lot more credibility, particularly early on.
"Then, we made sure to apply for and attend every startup conference that seemed related to our field. Local conferences gave us the confidence to tackle bigger conferences like Demo last spring. Those were terrific places to network, perfect your elevator pitch on real investors, and get press.
"Finally, we used Angel List and Gust to pitch relevant angels and Angel Funds in the area. The North Carolina Angel Funds were terrific about inviting us to pitch them, and they gave us great feedback. Once we found a fund that was a good fit for us, it was just about finding terms that worked for both sides".
FinSMEs: Who are the investors?
Rob: "We have two primary investors.
– IMAF Cape Fear, an Angel Fund out of Wilmington
– Yossi Gofman of Gofman Holdings, an Angel out of Tel Aviv".
FinSMEs: How are you using the capital?
Rob: "These funds allow us to enhance our technology and build new features our media clients and users have been asking for. It also allows us to begin marketing, Rawporter. It's amazing to think that we're in over 50 countries with word of mouth alone!".
FinSMEs: Do you already plan to raise an additional round?
Rob: "It's hard to know for certain, but yes, we believe it's likely that we'll need to raise a true Series A next year. We're happy about how far this funding can take us, but there is so much more we'd like to do, and it often takes funding to get there".
FinSMEs: What's your future plans?
Rob: "Right now we're focused on stabilizing our platform and adding the functionality our users have asked for. In time, we'll begin our marketing and start to more aggressively grow our user base. But for now, we just want to keep learning from our community and improve on our Beta product".
FinSMEs
02/10/2012