Mac Lackey is a serial entrepreneur and investor. He has built and sold 4 startups. Among them, InternetSoccer.com, which was sold to TeamTalk.com Group, a U.K.-based provider of sports content, for $15m in 2000.
Now, Mac is back with another soccer website, Kyck.com, which has recently raised $1m in funding (read here).
Lackey has told us a bit more about himself, the new venture, the funding and future plans.
FinSMEs: Hello Mac, thank you for joining us. First, which team do you support?
MAC: "Thank you for having me. That's a great question and actually pretty important for our business. The answer is, really, I don't have a single team. I love the game. There are many teams I follow and even more players I love to watch play. In terms of countries, it is the US, Brazil, Spain, Czech Republic and Argentina. Clubs, I would say Barcelona, Man City, Liverpool, Santos and Bayern Munich… The list of players I support is too long. Gun to my head answer is: Barcelona".
FinSMEs: Can you tell us a little bit more about you?
MAC: "On the personal front my life is primarily defined by two things: One is a great family, a wife and two daughters who I love to spend time with, traveling with, etc., and two is soccer (playing, watching, etc.). Professionally, I have been an entrepreneur most of my life. I started my first actual company about six months out of college with a $10,000 loan. Since that time I have built and sold four companies and been involved in many more as an advisor, investor or board member. I love startups. I love the energy, the lack of bureaucracy and the ability of a small group of people to build something of value from a simple idea".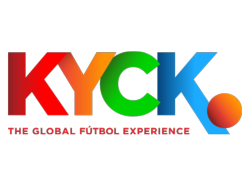 FinSMEs: why did you decide to launch KYCK.COM?
MAC: "KYCK solves a few problems for me as a soccer enthusiast. First, as the larger social networks become more bloated with general information they actually lose value to me on subjects I care about. They become more horizontal as my interests become more vertical. KYCK has created a few technologies that allow me to get "relevant" information, the things I care about while filtering out the noise of a socially enabled network. I think this is the future of not only soccer, but of digital media; Relevancy.
"Practically speaking, this means it is easier for me to discover if there is a great match on TV I may want to watch. It helps me consume great soccer videos because my network discovers them for me. It allows me to participate in dialogue about the teams and players I like and often feels like a digital pub where I can laugh with friends, argue about plays in a game, discuss plays, predict scores and have great conversationeven if I'm watching the game in my den. The key for me as I become busier is RELEVANCY… more relevant content based on my personal interests, based on what my friends like and what the crowd thinks is relevant globally".
FinSMEs: What is it? How does it work?
MAC: "KYCK is a digital media company at its heart. We are creating a community focused on one of the largest areas of passion on the planet – soccer/futbol. One in three people on earth are soccer fans and given its global reach and importance there is so much noise (so many games, news, videos, rumors and things happening) that it becomes overwhelming. So, to most fans that means missing things you care about as they get drowned out, or it means spending a tremendous amount of time searching for the content you want. Historically that has been a very frustrating and time consuming process for me.
"The real key to KYCK is that we have created a set of tools and technologies that makes it easier for a soccer enthusiast to filter content, find what they want, ensure they aren't missing important things and present it to them in a way it becomes easy to participate (comment, share with others, argue, etc.). All of this is driven by an algorithm we built which enables KYCK to deliver our users essentially personalized or customized content. Once you start participating it becomes easy to find others who share your interests or passion for certain teams, certain players or just happen to be great contributors to the conversation".
FinSMEs: What's the business model?
MAC: "The focus of the business model is similar to the focus of our product in general, RELEVANCY. We will have a few primary revenue drivers including sponsorship, advertising and commerce. Each of these is non-traditional in that we won't run static ads, or promote broad products to our users. Our platform was built to run "offers" through the same algorithm as our content. This ensures that if a global brand is trying to reach a certain consumer (which may be in a certain geographic area, or have an affinity for a certain team/country, or may be something very precise) our platform makes that easy to do. "Similarly we have products to sell but we aren't interested in offering them to all our consumers. Our focus is to offer a highly relevant product to our users, not only in a targeted way but also at emotional highs and in stream (meaning we don't just sell NIKE jerseys to our users, but we will offer a Barcelona jersey to a Barcelona fan who has checked-in to a Barcelona match, about 30 seconds after a goal OR 3 weeks before they plan to go to an actual game). The relevancy of the offer is not only about interests but also about timing, psychology and the wisdom of the crowd… all are factors for us".
FinSMEs: Could you introduce us to the other team members?
MAC: "KYCK currently employs about 10 full-time staff. We have a talented group of developers which makes up about half of the team. The rest of the team is made up from talented individuals across finance, operations, design, content and user experience. We employ a number of ex and even current professional soccer players (we have a close "local" tie with the Charlotte Eagles of the USL who have been a source of professionals looking to enhance their playing career). I have worked with one of my partners for over 15 years, one for 7 years, etc… We have a great, close knit team of people who believe in this company".
FinSMEs: Today, many tech companies try to raise venture capital, I know that this is not easy. What did you do to reach the target? Was it easy to close the deal?
MAC: "Raising capital is one of the hardest things for tech companies, and even more so if you aren't based in Silicon Valley or New York City. We have been fortunate that our past has demonstrated some degree of success which gives us a small edge, but the process remains difficult. For KYCK the focus was on the "who" vs. the how much. We tried to get an early group of investors who could add value beyond capital. Each investor was hand selected for a skill, expertise or network they could provide us to help us. The good news is once you have those investors they are impressive and often times will lead to other investors who respect them. So, to me raising capital is like a soccer match – methodically considering your game plan, recruiting the best people for that strategy, announcing your team (great players want to play with great players) and slowly putting the right players in positions. We closed our first round oversubscribed. Now we are starting our Series A round now… we hope/believe this will be the last capital we raise for quite some time".
FinSMEs: Who are the investors?
MAC: "The KYCK investors are all individuals at this point. They were largely hand selected for something beyond capital. We have a digital media expert in Silicon Valley, a gaming expert in Seattle, an Internet CEO in New York, an infrastructure expert, several Ventures Capitalists who invested personally, as well as people who are from Italy, Greece, Dubai, etc. The point was to get great diversity and coverage so that we had investors who could add value beyond capital. I believe we have achieved that and I am very fortunate to have such a strong group behind us".
FinSMEs: How are you using the capital?
MAC: "The SEED capital has been very focused on product. As our team hears me say quite a bit, we are not building an APP… We are building a business. That means a robust platform across multiple devices, it means infrastructure and it means customer focus. To do that you spend more time (and money) getting your foundation built. So I'd say 75% of the SEED capital was focused on development. Going into the next phase of our business which we are hitting now, there will be a continued focus on development and innovation as this is certainly a fast, iterative process, but increasingly the capital will move towards customer acquisition and revenue generation".
FinSMEs: Do you already plan to raise an additional round?
MAC: "We have just started working on our Series A round. We anticipate this being the last round of capital we raise for quite some time…"
FinSMEs: What's your future plans?
MAC: "I want to build KYCK into a large, very relevant player in both the global soccer as well as tech spaces. We see opportunity after opportunity to expand what we have already put together into a wide variety of applications. So now it is about building our brand, getting users on KYCK to experience it for themselves and ultimately to provide a level of value to customers that have them coming back again and again for the most relevant parts of their soccer lives. We also believe this technology allows us to do things that have never been done before. I am very excited to see all of the applications and opportunities that come from this when the crowd itself begins to imagine what is possible.
"We believe this is a significant opportunity".
FinSMEs
06/09/2012