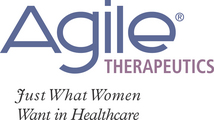 Agile Therapeutics, a Princeton, NJ-based pharmaceutical development company specializing in Women's Healthcare products, has closed a $40m Series C financing.
The round was led by new investor Aisling Capital, LLC, with participation from existing investors Care Capital, Investor Growth Capital, ProQuest Investments, Kaiser Permanente Ventures, and Novitas Capital.
The company intends to use the capital to support the pre-launch and launch activities for its lead product AG200-15, a once-weekly contraceptive patch that has been submitted to the FDA for approval, as well as the continued development of its second product, a progestin-only contraceptive patch, AG890.
Agile recently filed a New Drug Application (NDA) with the U.S. Food and Drug Administration for AG200-15 and anticipates a response in the first quarter of 2013.
Both AG200-15 and AG890 incorporate proprietary transdermal delivery technology, Skinfusion®, developed by the company, consisting of an active and peripheral adhesive system that allows stable drug delivery and dependable adhesion over seven days.
In conjunction with the funding, Dr. Andrew Schiff, Managing Partner at Aisling Capital, has joined Agile's Board of Directors.
The company is led by Al Altomari, President and CEO.
FinSMEs
19/07/2012