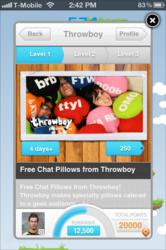 Gimmie, a San Francisco, CA-based start up that provides a game developer platform for Increasing in-app purchases, has raised $200k in seed funding from mobile industry incubator Tandem.
The company also launched its platform, which is now open and free to app developers in private beta.
Co-founded in late 2011 by former PopCap developer Roy Liu and CEO David Ng, Gimmie allows mobile app users to earn Gimmie points through sustained app use, which they can save and redeem for free and discounted real world products.
The platform provides also a marketplace where they can shop for any rewards they want. By further incentivizing existing hooks within an app, Gimmie motivates users to take desired actions, such as buying virtual goods, signing up for newsletters or advancing to higher levels.
Developers can implement Gimmie's in-app incentives program in a few minutes and can determine exactly how and when to issue Gimmie points to properly incentivize their users.
FinSMEs
26/01/2012