Triposo, the distributed start up that brings a Google approach to travel guides, has just launched its flagship product, the World Travel Guide App, for iOS (download here).
Founded by two ex-Googlers, Douwe Osinga and Jon Tirsen, the company uses clever algorithms to present complete and up to date travel information for any destination in the world, at any given moment. The app allows users to download destination guides for the countries or cities they will be visiting (Screenshot 1). Each guide, which can also be used offline, contains in depth information on what to see and what to do, where to eat and where to drink, all for free.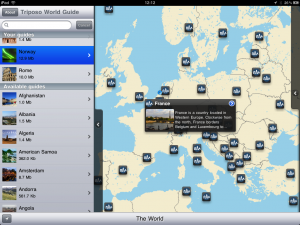 Information in the guide comes from different sources including:
– Wikipedia for articles about monuments,
– Wikitravel for nightlife and activities,
– croudsourcing sites World66 and TouristEye for recommendations from users
– Chefmoz for restaurant reviews
– OpenStreetMap for combining info with maps.
Commenting on the launch of the app, Jon Tirsen, co-founder and Tech Lead of Triposo, emphasized the role played by their algorithms: "The reason we can build a travel guide for the whole world is because we use algorithms to make our guides.
"We get our content from great open sources like wikitravel and wikipedia. Our job is to rank that content and to distill a really good guide for travelers out of it. If you do that for one place, you can do it for anywhere".
On September, 1, Richard Osinga, CEO of the company, told me that Triposo had raised $525k (read here). In an interview that we published on September, 12 (read here), he added that backers in the funding had been 10 including Chris Sacca, Lars Rasmussen, Taher Haveliwali, John Benediktsson, Jens Christensen, Shiva Kumar and Interwest Partners.
FinSMEs
05/11/2011