Last week, FinSMEs covered the news that Shopobot, a San Francisco, CA-based start up, closed a seed funding (read the news).
Following their announcement, co-founder Dave Matthews joined us to answer a few questions about this significative step. Dave, the former Senior User Experience Program Manager behind user interface features in Microsoft Windows, such as Aero Snap & Shake, instant search in the Start menu, and Touch scrolling, formed Shopobot along with CEO Julius Schorzman. Julius, the tech head behind the service, previously worked for  Amazon.com and LivePerson.
FinSMEs: Hi Dave, thank you for joining us!
Dave: "Hi Ermanno, nice to meet you!"
FinSMEs: Why did you start thinking about raising this funding?
Dave: "We're growing to support out increasing user base – and to expand into other product catagories that our users are asking us to follow. This investment will help us do that".
FinSMEs: Which path did you take to raise capital? How did you prepare for that?
Dave: "We had great support in fundraising. We joined the AngelPad accelerator which put us on a path to clicking close institutional investors, and top angels. Also AngelList was a great way to meet angels from all over".
AngelPad is the San Francisco-based mentorship program that invests in and advises a small group of new startups in each of their 10 week classes.  The advisors, composed of a group of ex-Google employees, help startups launch and raise seed funding. Shopobot participated in the second AngelPad class from starting in January 2011, and began fundraising at Demo Day on March 29. AngelList is the matching-making web site for start-ups and angel investors.
FinSMEs: Who are your backers? Could you tell me something about your relationship with them?
Dave: "Google Ventures, AOL Ventures are two of the big institutional investors, and have been tremendously supportive. Jump Ventures is a smaller firm with a unique product design focus. We also have a set of great angels on board".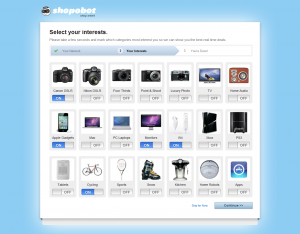 FinSMEs: What is Shopobot? What does it offer?
Dave: "Shopobot helps users find great deals on the expensive items they really want, like cameras, sports equipment, and appliances. Shopobot tracks price fluctuations across top stores and finds the best time and place to buy".
The idea behind the service is that many consumers are unaware of the amount of price volatility online, and over-pay because they make their purchases at the wrong time.  For this reason, Shopobot intends to bring transparency and independent analysis to online shopping. Julius and David began creating Shopobot, building a prototype for the service in mid-2010. Public beta was released in June 2011.
FinSMEs: how are you using the funds? Are you hiring?
Dave: "Yes – we're hiring web developers".
FinSMEs: would you recommend the same path to other young entrepreneurs?
Dave: "Yes – the path we took gave us a lot of support to quickly get here".
FinSMEs
25/06/2011