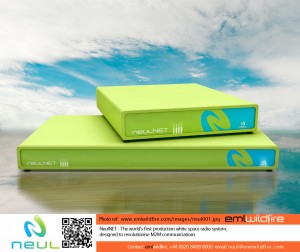 Neul, a Cambridge, UK-based company that develops wireless network technology to enable the use of TV "white space" spectrum, has raised $12.8m (approximately £8.0m) in funding.
The round was led by DFJ Esprit, with participation from IQ Capital, Cambridge Angels, as well as the company's founders and employees.
The company intends to use the proceeds from the investment to further expand its position in fully compliant white space wireless systems.
Neul recently announced its first product, NeulNET, which is a radio system specifically designed for TV white space that meets all FCC/Ofcom regulations. It consists of a base station, battery powered terminal device, antennas and a set of PC based network management tools. This allows networks to operate safely & legally within TV white space.
Formed in 2010 and led by CEO James Collier, the company aims to provide reliable and long range wireless connectivity to satisfy the growing market for data communications.
FinSMEs
30/06/2011