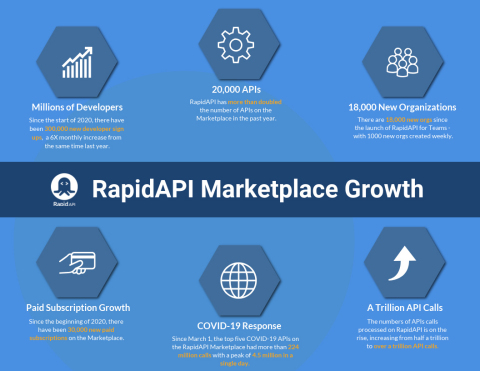 RapidAPI, a San Francisco, CA-based API marketplace where developers find and connect to thousands of APIs, raised an additional $25m in Series B funding round.
The round, which brought the total amount raised to date to $62.5m, was led by Andreessen Horowitz, DNS Capital, Green Bay Ventures, M12, and Grove Ventures.
The company intends to use the funds to attract new developers, onboard API providers, and advance functionality on its Marketplace and on the Enterprise Hub.
Led by Iddo Gino, Founder and CEO, RapidAPI provides an API Marketplace used by developers to find, test, and connect to thousands of APIs – all with a single account, API key, and SDK. Software development teams can also collaborate on APIs using RapidAPI for Teams, which offers a common workspace to publish internal APIs and share public API subscriptions. Organizations can use RapidAPI to create a centralized hub environment to help developers reuse and connect to existing APIs faster while providing IT with enterprise-wide visibility and governance of API consumption.
RapidAPI is adding 1000 new APIs per month, offering APIs from providers that include Microsoft, Twilio, SendGrid, Nexmo, Skyscanner, Crunchbase, and more.
FinSMEs
21/05/2020