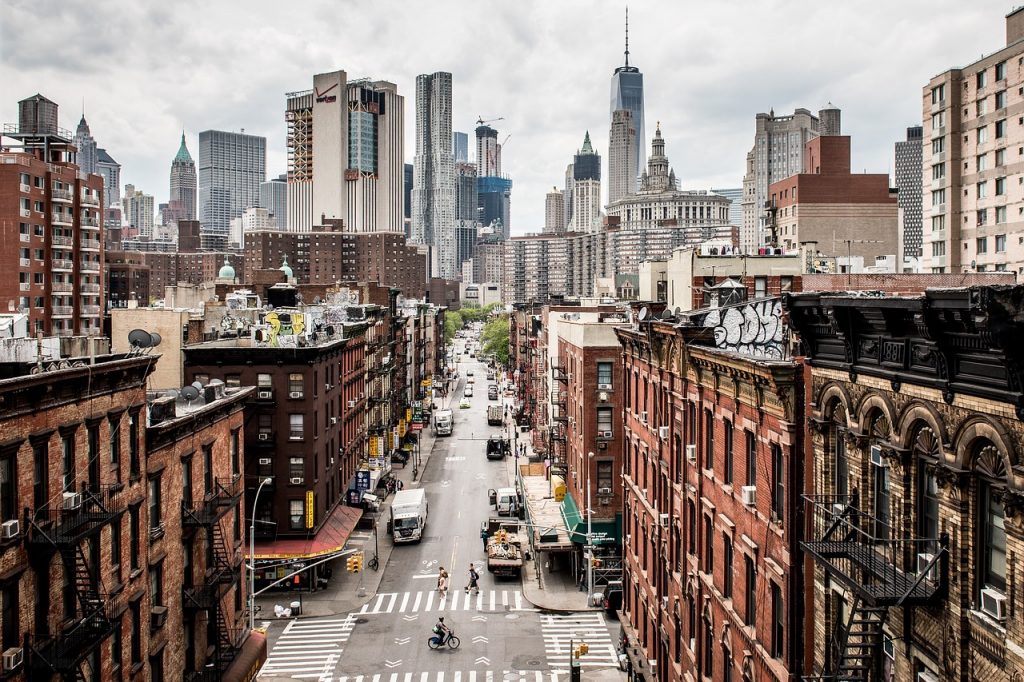 Following a surge in venture-capital investments, New York's startup scene is more active than ever, especially in the tech sector.
Far from being the next Silicon Valley, New York is actually emerging as a different type of business hub that reunites many industries, such as finance and advertising. According to a 2018 study, New York-based start-ups raised $11.5 billion in venture capital in 2017, which is a whopping $8.9 billion more compared to 2012, surpassing San Francisco and the North Bay Area.
New York opens its gates to the tech sector
Although the current investment rate in New York is far from competing with Silicon Valley, the tech scene has developed considerably, catching the attention of entrepreneurs and investors alike. We can see the change not only in the number of tech companies that are launched every year, but also in the way these are organized on the map. If initially tech companies in New York could only be found around the "Silicon Alley", now they are popping up everywhere, including in Queens and Brooklyn. What's more, the tech sector is more diversified, ranging from traditional businesses the likes of Fintech and SaaS, to more modern models such as biotechnology and creative technology.
Tech giants like Google and Facebook set up new offices in New York, contributing to the development of the job market. Today, there are 30% more tech jobs compared to 2008 and, according to Tech:NYC, this is double the rate of New York's general economic growth. For example, in 2016, New-York based tech companies received more than $9 billion in funding. Naturally, this surge in tech startups also required an adaptation in infrastructure, so investors responded quickly by opening dedicated office spaces, open offices and co-working spaces.
Why is New York friendlier to startups?
Considering its rapid economic development and the huge number of businesses here, New York may seem like an intimidating location to launch a startup, but in reality, it's actually the other way around. According to Yellowstone Capital LLC, gaining capital for NY businesses is not a difficult thing to do these days, as there are many companies and private investors ready to give young entrepreneurs a chance.
The Global Startup Ecosystem Report 2017 (GSER) reveals that New York ranks 2nd in terms of performance, after Silicon Valley. Experts don't expect it to surpass Silicon Valley, but instead, they say that New York has become a different kind of business scene.
First of all, we need to understand the Silicon Valley bubble:
Silicon Valley shines only through its tech industry, but as far as the rest of the industries are concerned, the area has been criticized for being out of touch with the rest of the United States. Finance and media are poorly represented and there are very few opportunities for entrepreneurs who want to work in something other than tech.
From business models to employee profiles, Silicon Valley is strikingly homogenous.
The tech bubble reached its peak in 2015 and ever since, the number of tech unicorns has been dropping steadily, leading analysts to believe that we may be approaching the end of Silicon Valley.
Meanwhile, New York stands out through something else:
Tech is just one small part of what the NYC startup scene has to offer. In adding to tech startups, there are also many success stories in finance, art, healthcare, media and advertising.
The presence of large, veteran companies is not an obstacle in startup development. On the contrary, they offer an opportunity for small businesses: where there are large companies, there are also layoffs, so startups have access to a large talent pool. The proximity to Wall Street is also a unique advantage.
There are more banks, private equity firms and hedge funds in New York than there are in Silicon Valley, giving entrepreneurs access to various funding options.
New York is a dynamic city that attracts forward-thinking talent and early adopters – these are the perfect conditions for an ambitious start-up.
NYC stands out as one of the most diverse business scenes in the world: 19% of founders are women, compared to the 16% global average, and 25% are immigrant founders, compared to the 19% global average.
15 of the 105 unicorn companies in the United States are based in New York. One of the most notable examples is WeWork, valued at $20 billion and ranking #3 on the list.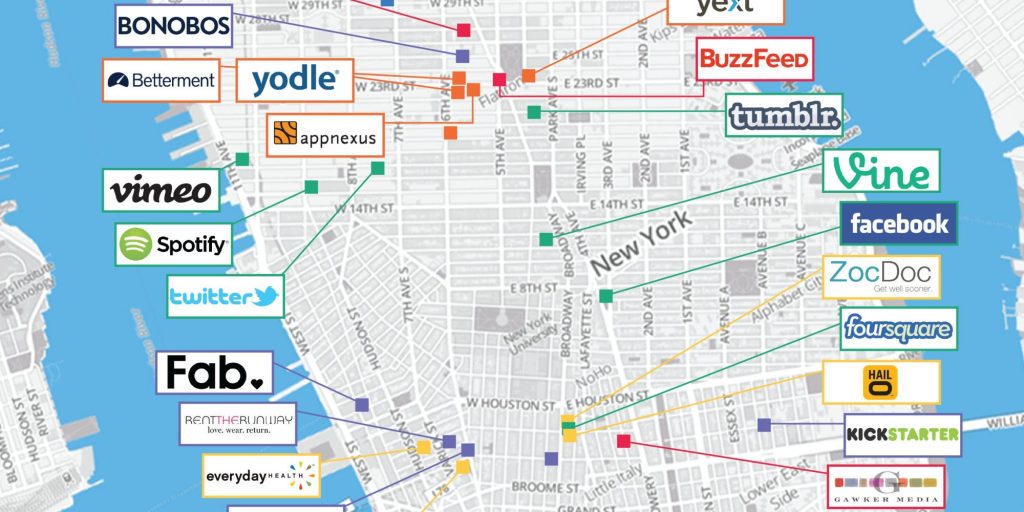 What to expect from New York in the future
As we are entering the third trimester of 2018, it seems that New York is approaching a period of maturity and stability, where the startups launched in the past couple of years are starting to gain momentum. Thanks to the favorable business philosophy and multitude of funding opportunities, startups are developing into what Google and Amazon are for Silicon Valley and New York is consolidating its powerhouse status.