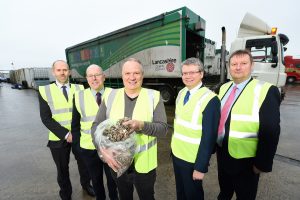 Lancashire Waste Recycling, a Fleetwood, UK-based recycling business which takes household waste destined for landfill and turns it into fuel, raised £575k in debt funding.  
Lancashire Rosebud Finance and NPIF – FW Capital Debt Finance, which is part of the Northern Powerhouse Fund, provided the financial resources.
The money will allow the company to invest in new plant, expand its market and create 15 new jobs over the next three years.
The -based company will be the first in the UK to offer solid renewable fuel (SRF) pellets, which are in growing demand worldwide as a replacement for coal in heavy industry.
Founded in 2010 by serial entrepreneurs Paul Mellor and Jim Entwisle, Lancashire Waste Recycling produces fuel in the form of shredded material which is used in cement kilns. Now it is acquiring biomass boilers and plant to dry out the fuel and turn it into pellets, which can be used in almost any industry.  The company now has a sister company, Envirofuel, which was established in 2016 and operates from a site in Hapton, Burnley. Between them, the two companies now process over 150,000 tonnes of waste per year and employ over 30 people.
FinSMEs
22/03/2018