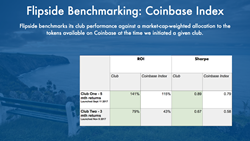 Flipside Crypto, a Boston, MA-based company that operates data-driven cryptocurrency investment vehicles, closed a $3.4m venture capital funding round.
The round was led by True Ventures with participation from The Chernin Group, Resolute Ventures, Boston Seed Capital, Converge and Founder Collective. In conjunction with the funding, True Ventures Partner Adam D'Augelli will join Flipside Crypto's Board of Directors.
The company will use the funding to continue to develop and refine its algorithms, which analyze speculation, developer behavior and token utility for cryptocurrencies, and to further develop its suite of cryptocurrency management services, including cryptocurrency acquisition, digital walleting and custody services.
Led by Dave Balter, CEO, Jim Myers and Eric Stone, Flipside Crypto launched in mid-2017 through the development of proprietary data models to evaluate liquid crypto assets and offering a series of investment portfolios related to cryptocurrencies. The company provides a full suite of services from algorithm development to acquisition, digital walleting and custody process, as well as community tools and portfolio dashboards for investors. and backed by True Ventures, The Chernin Group, Resolute, Founder Collective, Boston Seed Capital, Converge and other investors.
The round follows the launch of its first six investment vehicles, which utilize algorithms to analyze the liquid cryptocurrency market and identify a diversified basket of 14-16 cryptocurrencies, including Bitcoin and Ethereum, as well as a number of altcoins club members can invest in.
Flipside Crypto is currently accepting investments from accredited investors for its latest investment vehicles.
FinSMEs
28/03/2018