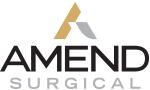 Amend Surgical, an Alachua, FL-based medical device company with newly licensed technology developed at the University of Florida, received funding from the Florida Institute for the Commercialization of Public Research.
The amount of the deal was not disclosed.
The company will use the funds for continued development and expansion.
Led by Robby Lane, Chief Executive Officer, Amend Surgical is a specialty medical device company focused on enhancing the healing and regenerative capacity of bone grafts, including allograft, xenograft tissues and synthetic materials. The company's pipeline includes novel, osteoinductive bone extracts, and will expand in the future to disruptive products based on discovery and development of novel therapeutic additives with tissue-specific regenerative characteristics.
FinSMEs
19/05/2017